Last week, I attended three String Cheese shows at Red Rocks. Read my general reactions to the shows here. So why am I posting about those shows again? Something happened during those shows that will affect my photography going forward.
After writing my review of Friday's show, I went onto Facebook and saw a post by Jason Hann, the percussionist from String Cheese. It was a photo taken by a photographer named Brian Spady that showed a multitude of beautiful colors spraying over the audience, with Cheese on the left side of the image and the Ship Rock a backdrop. It was, quite frankly, one of the most stunning images I'd ever seen. Look at it below and tell me you don't agree!
On Saturday, at the last show, I was getting ready to go down to shoot the band for Hey Reverb and saw a photographer standing near the sound engineer. Since the above image had to have been taken from the stage, I thought this photographer might be the one, and introduced myself, asking if he had taken that brilliant image that Jason Hann had posted. He admitted to it, and introduced himself as Brian Spady. We started talking, and after talking for a bit about general shooting, and after I had told him how beautiful and stunning that shot was, I asked how he'd gotten it. I figured he'd used a fisheye lens (he had), but he explained that it was an HDR image, or high-dynamic range photograph.
The next day, I started researching HDR images, and learned it was a way to create beautiful images under challenging lighting conditions from multiple exposures. Over the last few days, I've started to experiment with it. Below is one HDR image I shot at the Botanic Gardens last night.  As I posted on Facebook, I am thankful to Brian Spady for introducing me to the concept, even if it will double my editing times!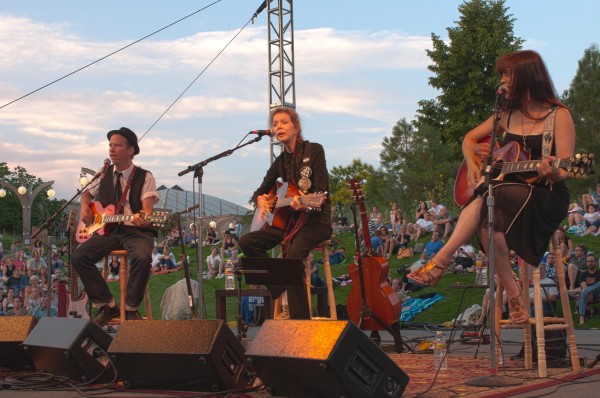 ---